Our Roastery is our Training center, It is a Mobile Roastery Train & steaming ahead We do the Morning Coffee Wake-up & some large events for promotions, Some Day you may be privileged to call in for a Coffee. It is equipped with a 15Kg
Coffee Roaster & Has large capacity Inverter with on board Power & Computer management for all the equipment. It has been through 2 Large Earthquakes in Christchurch & has assisted with the recovery with Emergency Services Free Coffee Relief, It is currently in For A full service & repaint So keep looking back & new Photo's will be placed here once it is completed. It is in our Station as we now use one of our 25Kg Coffee Roasters.
Looking After The Roastery & Cleaning It After School Is Hard Work But I Love Working Around My Train So I can Keep It When I Grow Up – You can email me roaster@izon.co.nz
Thank You For Looking & Supporting us
This is Mobile Roastery Unit T2-25KG in action while blending, Packaging & placing them in the De-Gassing chamber –
All our roasting is single origin, To allow the correct fullness of flavour, Once allowed to cool we blend & mix the flavours. They are packed in there bags to allow all the bean gasses to mix & mature to give you that distinguished aging taste.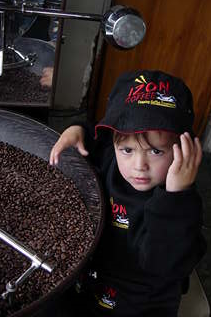 Our Coffee Roaster in 2008 – Master Izon at 4 1/2 Years Old With His 10kg Personal roaster. – He has Just Advanced To The Large 4 Motor AAA Series – Aromatic Air Assisted Roaster, This is in our Roastery – There is a lot Buttons To Press So He is having Lots More Fun & so Unique The Blends Being Produced
He is in charge of mixing blends & grading the roasted beans 100% Fair Grade Coffee
This was a test blend he decided that he would open the hopper & great decision as another perfect roast, ready for De-Gassing – He also makes a great Espresso on his La Marzocco FB70 & with his LPG Gas Wega as the buttons are much easy to press  – You may see him in action one day.
Now for that Final test Inspecting the Quality of the Freshly Roasted Beans – When only the best will do – Now I'm off to show Luciano how to make a great Latte & do some training with him.
NZ's # 1 Barista 2008 & 2010
When only the best will do email me Izon & I will look at them after school. Mobile Coffee Cars – With Izon Coffee Book your Mobile coffee Car Event today
EMAIL: info@izoncoffee.co.nz